MARQUETTE, MI – 3/10/2015 – The regular seasons are over, and the coaches have placed their votes.  The MPC 1st team, 2nd team, and all-defensive teams have all been announced.  Ishpeming has claimed both "Player of the Year" honors, but Negaunee & Iron Mountain have the most players recognized between boy's & girl's basketball with 8 apiece.  Between the boys & girls, there was only one unanimous decision, and that was Ozzy Corp to the all-defensive team.  It was a very competitive season in the MPC, with 8/14 teams winning at a clip of .500 or better, and the boys' side of things came down to the last week of play to see a champion rise.  Also, of the 35 players honored, TWENTY are underclassmen, to just fifteen seniors.  There will be nothing but excitement in the coming years of MPC basketball.  We saw record defense, exciting offense, blowouts, and upsets, and the playoffs haven't even started yet for some!  Without further adieu, let's see who the MPC coaches felt deserved to be honored:
Girl's Basketball
Players of the Year
Jessica Spencer – Ishpeming
The senior leader for the MPC Champion Lady Hematies, Jessica was second in the conference in points (13ppg) was top-10 in rebounds with 5.4rpg.  What doesn't show up on the stat sheet is her passing ability.  Jessica was able to make the passes from the point, to the post with great efficiency.  She will be difficult to replace for the blue & white.
Jordan Kraemer – Norway
A walking double-double, she averaged one for the season.  Leading the MPC in points and rebounds at 14.2 & 10.2 respectively.  As a sophomore, she nearly led her team to a district championship, falling just short in triple overtime vs. Iron Mountain.  Jordan is a great ball handler, good shooter, and will out-hustle most players in the MPC with ease.  She will be something to watch in the coming seasons.
1st Team
Tori Loren – Gwinn
One of the "Twin Towers" that Gwinn imposes on other teams, Tori causes problems for a ton of teams.  Her season was summed up with a 27-point, 15-rebound performance against the Lady Hematites in the playoffs last week.  Tori will have a chance to lead the team once again next year with the departure of senior Ellie Olsen.  She averaged just under 13ppg and an even 7rpg for coach Olsen.
Aleda Johnson – Negaunee
Another sophomore standout, we will be in for some great Negaunee-Norway match-ups moving forward.  Aleda had a stellar freshman year under coach Sager and maintained that play in 2014-2015.  Tying Tori Loren at 12.8ppg, Aleda will be the leader of a scary back-court Negaunee has returning in 2015-2016.
Katie Brule – Iron Mountain
With an outstanding ability to handle the ball in all phases of offense, Katie was able to finish top-5 in scoring, averaging 12.2ppg and was second in rebounds with 8.9rpg.  A near double-double average launches this junior into the preseason PoY conversation next season.
Ellie Olsen – Gwinn
The second ModelTowner on this list, she was a leader on and off the court.  Taking a team that only featured three seniors, one of which was injured for much of the year, to the district title game, Ellie knew how to get things done.  Despite finishing second on her team in rebounds, she still finished in the top-4 overall.  Gwinn themselves had three of the top five rebounders.  Ellie's passing ability was only surpassed by her scoring, as she cruised to 11.4ppg scoring clip.  Ellie was just one of seven players to average double digit scoring this year.
Kaylie Engler – Ishpeming
If not for Jessica Spencer, Kaylie would most likely have been the focal point of Ishpeming's offense.  A great ball handler and efficient scorer, Kaylie plagued MPC defenses all season long with her phenomenal play.  She, will be difficult to replace for the blue & white next season.
2nd Team
Tierra Taylor – Gwinn
The third leading rebounder in the MPC with 8.6, and eighth in scoring at 9.3, Tierra will be a likely candidate for the double-double club next year… her sophomore hear. 
Gabby Hebert – Westwood
Despite a disappointing performance from a team perspective this season, Gabby was able to lock down defenders and knock down a few threes, shooting at an impressive 39.4% from behind the ark.
Adena Anderson – Negaunee
Not really a candidate to be on this list earlier this season, Adena suddenly caught fire in the last half of the season behind the ark.  She finished 3rd in threes made, and did so with a better clip than the first and second place finishers on that list at 36.5%.
Katie Rankinen – Westwood
A very consistent player who did it all.  Top-15 in both scoring and rebound, Katie also was able to make some very good passes that benefited her teammates.  A good ball handler with a good basketball I.Q. is always a dangerous combination.
Jaicee Ball – Norway
Another player whose stats won't wow you, but a smart player on the court.  Setting good picks, making the right pass, and playing good defense has earned Jacey Ball this spot on the list.
HONORABLE MENTION
Marissa Maino – Ishpeming

Sarah Bogaudo – Iron Mountian

Courtney Finnila (#32) has led the Miners defensive attack for the past two seasons, and will look to repeat that next year as a senior.

Courtney Finnila – Negaunee

Alena Herman – Iron Mountain

Hailey Fezatt – Negaunee

Jordyn Hutchens – Gwinn
ALL-DEFENSIVE TEAM
Courtney Finnila – Negaunee

Gabby Hebert – Westwood

Ellie Olson – Gwinn

Jordan Kraemer – Norway

Tammy Simula – Ishpeming
Boy's Basketball
Player of the Year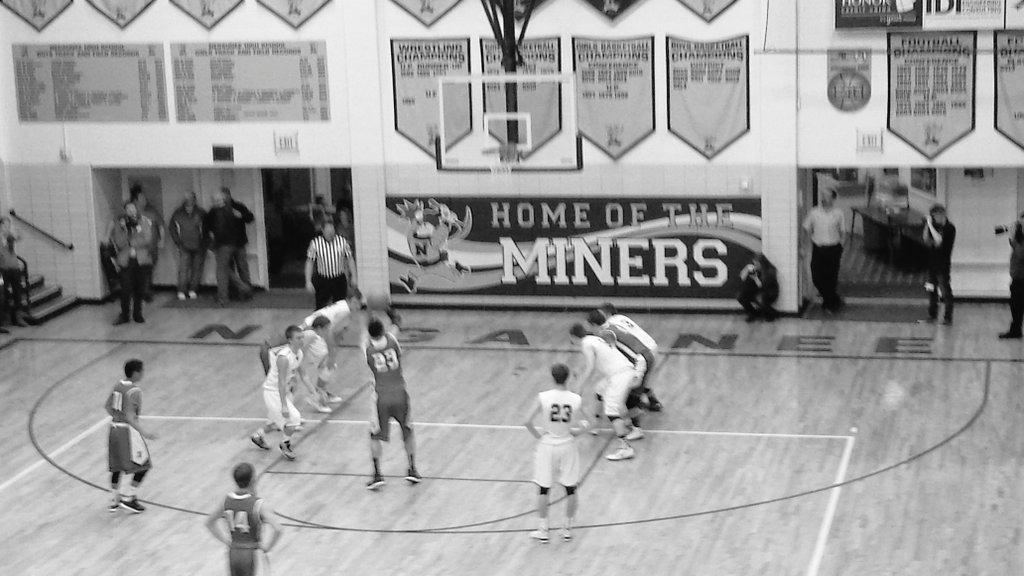 Ozzy Corp – Ishpeming
As it is with high school athletics, Ozzy had a lot to replace from last year's team.  Four-year starters Alex Briones & Tyrus Millimaki were gone and Ozzy jumped from third fiddle to "the guy".  He did very well, finishing second in points (13.6ppg) & rebounds (8.5rpg).  A 6'5" guy who can spread the floor with a decent outside shooting ability, Ozzy will drive Ishpeming for another year moving forward!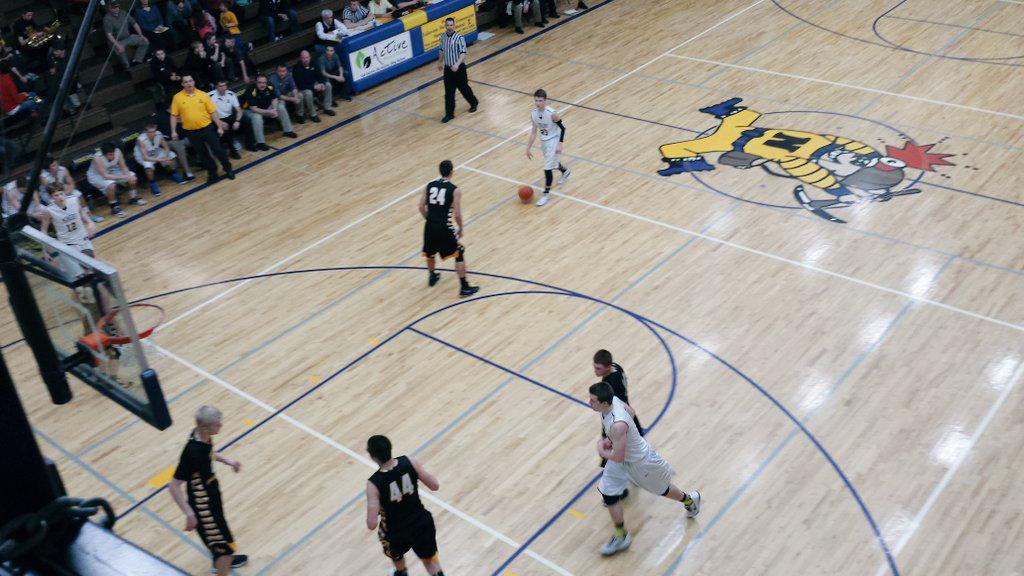 1st Team
Jay Lori – Negaunee
Similar to Ozzy Corp, Jay Lori had the difficult job of replacing two memorable Miners this year in Tyler Jandron & his own brother Eric.  Jay was very serviceable in his sophomore year as the third option, but took over top-dog duties this year, finishing first in points (14.1ppg) & rebounds (8.7rpg) while usually drawing double and even triple teams.  Like Corp, we'll have one more year of Jay on the court.
Carson Wonders – Iron Mountain
At 18-2 the Mountaineers exploded onto the scene this year.  A great team that will see plenty of players mentioned on this list, Wonders was front and center.  A very viable PoY candidate, Wonders was third in points, averaging 13.2ppg.  What impressed me most was his ball-handling.  A 6'3" sophomore, the kid had the moves of a point guard and the passing ability of one as well.  With speed matching most guards, he was a very difficult player to get around on the defensive end.  He'll be a force for the next two seasons.
Dre Tuominen – Negaunee
Another sophomore ladies and gents.  Dre transferred to Negaunee and jumped into a familiar offense of coach Dan Waterman.  Averaging 13.1ppg and 4.5rpg, Dre always makes his mark on the MPC stat sheets.  What doesn't show up is his passing ability.  Whether it's from one corner to the other, Dre's court-vision is top notch.  I look forward to watching Wonders & Dre trying to outdo one another in the coming seasons.
Tanner Huotari – Iron Mountain
The point guard for an 18-2 Mountaineer team that can shoot the rock.  He made the third-most threes in the conference, and used that threat to also drive the ball to the hole, where he'd either finish strong or dish off to his two buddies Carson Wonders & 6'7" Jake Thomann.  Huotari was also a difficult defender to deal with, as his quick feet and crafty hands led to some steals and fast break points for his team.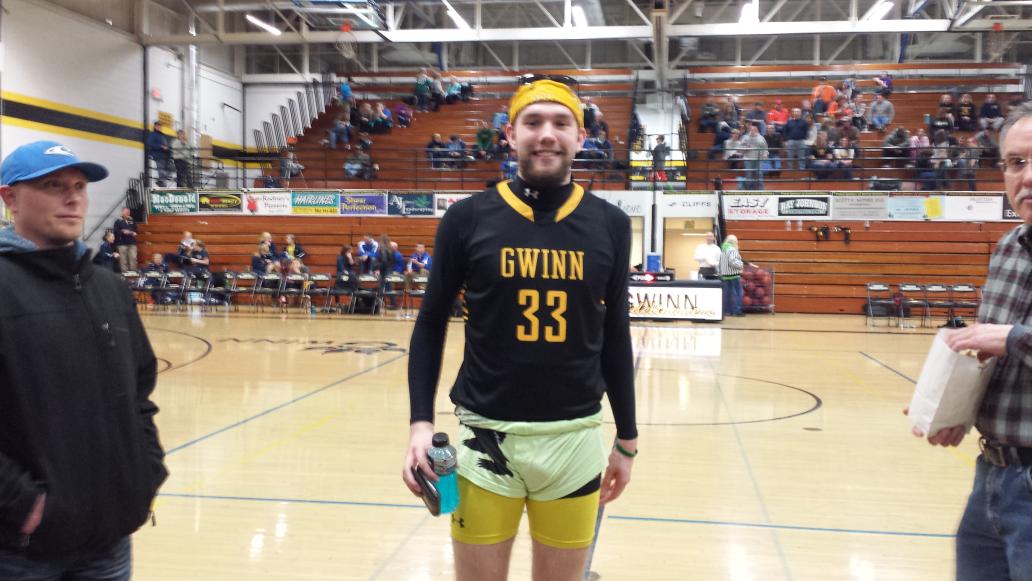 Justin Beauchamp – Gwinn
"Mr. Hustle" would probably be the best way to describe Justin.  Sixth in conference scoring (12.1ppg) and fourth in rebounding (6.7rpg), Justin has literally earned this spot.  The only thing that may hold him back from doing more damage is the occasional foul trouble, but make no mistake, Gwinn is a completely different team with him on the floor.  The senior will be missed by ModelTowner fans.
Luke Gray – Westwood
Six of the top seven players (counting Ozzy Corp) are top seven in scoring.  Luke Gray was the leader of a very underrated Patriot team.  Averaging 12.9ppg, Luke was able to use his quick drive and even quicker release to give opposing coaches fits.  He could score upwards of 30, and even have a "quiet" 15 points.  He flows within the offense, but can also succeed outside of it.  There's a reason he's been on varsity since he was a freshman.  Fear not Patriot fans, you still got him for another year!
2nd Team
Thomas Finnegan – Ishpeming
The Robin to Corp's Batman, Thomas Finnegan can do just about everything.  The point guard of coach Jeff Olsen's offense, Finnegan averages just under 10ppg, but also makes the right pass when it's needed most.  Defensively competent, he can poke the ball away and make the full court pass to one of his blue & white compadres.
Kyle Johnson – Iron Mountain
The MPC's best three point shooter, Kyle Johnson can straight shoot.  He knocks down the trey 46.3% of the time and also has the innate ability to set up his teammates when defenders rush up to defend him on the ark.  Coach Harvey Johnson will have another year of watching his son light up MPC defenses.
Jake Thomann – Iron Mountain
You may be asking yourself:  "Are all of Iron Mountain's starters going to be honored?"  The answer is yes, but we'll round out the starting five in a bit.  Their defense revolves around their senior leader:  6'7" Jake Thomann is a nightmare to deal with.  The only player I've ever seen shut down Jay Lori completely, he held the first-teamer to zero points when they met down in Iron Mountain.
Mitchell Messing – Westwood
Where Corp & Finnegan are Batman & Robin, Messing is Luke Gray's partner full & full.  Averaging 10ppg even, Messing can pull defenders to him while Gray does his thing.  Just when coaches think they've got a handle on Gray's offense, he dishes it to his buddy who then exploits whatever other teams are doing.
Rob Loy – Negaunee
The senior leader of the Miners.  Rob took flashes from his junior year, where he spent most of it watching Jandron & Eric Lori dominate, and really blew up this year.  Despite not being the first or second option within his own offense, he still is top-12 in scoring with 9.2ppg.  Not to mention his all-defensive honors that he's 100% earned.
Reed Wiedenhoefer – Gwinn
Times are different folks.  Sophomores are varsity-ready a little sooner these days, and Reed is no exception.  His stats don't dazzle as he's 20th in scoring and just 12th in rebounding, but Reed changes so many things while he in on the floor, It's almost impossible to explain.  Don't worry… you have two more years to see for yourself.
HONORABLE MENTION
Tony Hoholik – Manistique

Trevor Burke – Westwood
ALL-DEFENSIVE TEAM
Ozzy Corp – Ishpeming

Rob Loy – Negaunee

Justin Beauchamp – Gwinn

Tanner Huotari – Iron Mountain

Brock Grenier – Iron Mountain
Congratulations to all players on a great year!  Seniors:  I hope you have enjoyed your time playing on MPC courts, and appreciated the time you put in.  Underclassmen:  Get back to work this summer!
-Carl Leander Johnson